Stop the Loudness War
Die folgenden Videos zeigen die brillianten Ergebnisse der Medienmanagement-Studenten der Fresenius Hochschule für Wirtschaft und Medien, Köln. Die Semesterarbeit im Fach Produktionsmethodik und -Technik stand unter dem Arbeitstitel Stop the Loudness War. Es sollte die Notwendigkeit für die Standardisierung der Loudnessmessung in der professionellen Audioinstustrie visualiert werden.

Die Studenten, unterstützt durch TV-Größen und dem Dozenten mit seinem Team, haben diesen Inhalt sehr humorvoll und für den Laien leicht verständlich umgesetzt. Viel Spaß!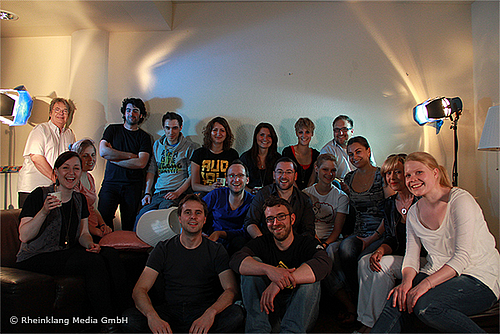 Die Studenten der Hochschule Fresenius, Studiengang Medienwirtschaft:
Daniel Drewitz, Sabrina Faensen, Vadim Filatov, Maria Freier, Felicitas Hammermann, Helena Hack, Christoph Holler, Markus Lievenbrück, Kristin Matthey, Tobias Regesch, Anikó Seress, Stefan Sossna

Die Darsteller des "älteren Ehepaars":
Sonja Ederer, Axel Beyer

Der Dozent:
Thomas Grahl, Geschäftsführer Rheinklang Media GmbH

Das Team von Rheinklang Media GmbH:
Merle Krafeld, Philip Letz, Igor Rubin
Stop the Loudness War

Ein gemütlicher Abend mit Popcorn auf dem Sofa - bis zur Werbung ...

Eine Liebeserklärung bei laufendem Fernseher - mit entsprechenden Folgen

Gemütliches Kaffee-Trinken vor dem Fernseher ...