Archived: SurroundMonitor 10600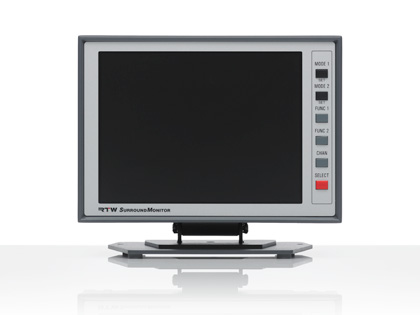 Archival: SurroundMonitor 10600 Series

The number of audio programmes produced in surround is growing steadily and the visual monitoring of such programmes with appropriate tools is gaining more and more importance. This means that an increasing number of studios and control rooms have to be fitted or retrofitted with adequate analysis technology.

The SurroundMonitor 10600 series includes sophisticated and budget friendly six-channel display systems with ITU BS.1771 loudness meter and Surround Sound Analyzer ("House" display) for monitoring digital stereo, multi-channel, and surround audio signals in fully-digital studio environments in broadcast, pre and post production, music production, mastering or video editing suites and workstations.
This device is no longer available!
Digital AES3 inputs (32 to 96 kHz)
Up to 6-channel multi-standard Peak Program Meter (PPM) with additional SPL/Leq bargraph
Peak memory, peak hold and Over detector for all channels
ITU BS.1771 Loudness meter with additional selectable pair of bargraphs for display of the momentary, integrated and longterm loudness values
Easy change between PPM and Loudness meter via programmed presets
Surround Sound Analyzer with total volume indicator, Front/center/rear balance indicator, phantom source indicators
Up to 10-fold correlation display
2-channel audio vectorscope
31 bands real time analyzer (RTA)
Dialnorm meter for digital signals
AES/EBU status monitor
Calibratable sound level display
A-, C,- CCIR2k-, RLB(K), RTW weighting filters
Remote control interface
VGA output
10600-PLUS - no longer available -
Table-top unit (176.5 x 125.4 x 61.5 mm) with 6.5" VGA TFT display 131.5 x 98.6 mm, with table-stand and mains adapter, and
6 ch. digital In (3 x AES3 In, Sub-D)
6 ch. digital Out (3 x AES3 Out, Sub-D)

10660-VID - no longer available -
same as 10600-PLUS, but half-19" plug-in module (213.8 x 132.6 x 242.3 mm) with mounting adapters for cases with 407 mm depth (like standard 19" rack-mount cabinets for waveform monitors), without table-stand and without mains adapter
13719 - no longer available -
Retrofit table-stand (10600-PLUS)

13713 - no longer available -
Panel mounting kit for 10600-PLUS

1163
Snake cable 4 meter, distributes 25p-Sub-D to 8 x XLR-M (outputs)

1186
Snake cable 4 meter, distributes 25p-Sub-D to 8 x XLR-F (inputs)

1168-R
Wide range 100 - 240 V AC/24 V DC 2.7 A, table-top power supply with corresponding power cable for different power supply systems
Data sheets and product information for download (as far as still available) can be found on the Archive site in our members area.
Please log-in or register.