Archival: MasterMonitor

The MasterMonitor stands out with its compact dimensions. The insert module is just 66 mm deep and can be mounted easily into 19'' environments or 140 mm systems. It is perfect for monitoring level, frequency response and phase of analog and digital signals. It features a mixed mode function for simultaneous display of analog and digital signals as well as a audio vectorscope. There is also a special peakmeter mode with a bargraph size of 95 mm.
Analog and AES/EBU inputs, digital outputs
Mixed mode level display
2-ch. multi-standard Peak Program Meter (PPM)
Special peakmeter mode with 95 mm wide bargraphs
Peak value memory, peak hold, and Over detector for all channels
2-ch. Audio Vectorscope
Phase correlation meter
AES/EBU status monitor
5" color TFT display
1069A-120 - no longer available -
Insert module (140 x 120 x 66 mm) for 140 mm environments with 5" color TFT display (102 x 75 mm) and
2-ch. analog In (VG)
2-ch. digital In (1 x AES/EBU In, VG)
2-ch. digital Out (1 x AES/EBU Out, VG)
Mixed mode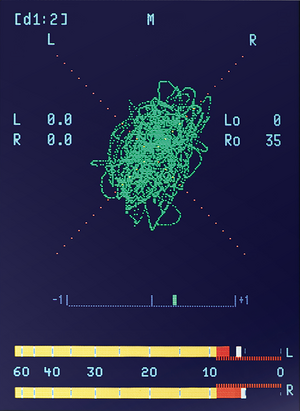 This example shows the Peak Program Meter (below) with the peak levels of all channels and integrated peak hold indicators, and the 2-channel Audio Vectorscope (above) for displaying the phase relationship of two channels in real time (Lissajous). Additionally, a corresponding phase meter is displayed. The switchable numerical display reads out the maximum level and over counts.
Data sheets and product information for download (as far as still available) can be found on the Archive site in our members area.
Please log-in or register.