Nixer PD-Dante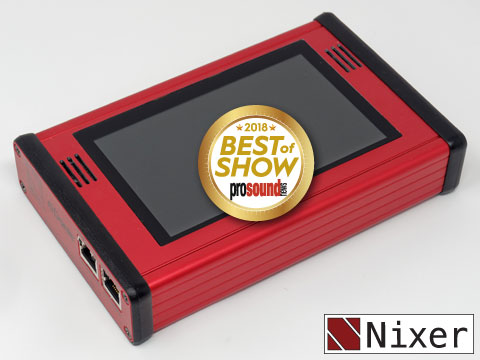 Audio over IP Network Monitoring Made Easy: Dante™ and AES67 Streams

PD-Dante is a small portable monitoring and diagnostic system, which allows you to monitor or to listen into single or locally mixed Dante™ or AES67 streams. No matter if you are working on a broadcast application or at a live event, PD-Dante is a very handy tool for controlling your Audio over IP network.

The user-friendly large 5" capacitive LCD touch display shows all 64 channels with their individual routing to the L and/or R outputs, signal level meter and 0 dBFS peak indicator plus their channel name. It also displays serveral buttons for quick access of system settings and the Dante™ Network menu.

The main output level (headphones, Line Out or AES Out) of the selected channel/mix is displayed on two large signal meters with overlayed level fader for attenuation.

You can select any of the 64 possible Dante channels or create a user-definable mix of these channels via the capacitive touchscreen and listen to them via the on-board loudspeakers and headphone connector. The speakers are muted upon insertion of headphone jack.

PD-Dante also offers one external stereo AES/EBU input plus a stereo line in and a microphone input to be assignable to any pair of Dante™ output channel. Dante™ channels can be sent to an AES/EBU output and stereo analogue line output (both located on the 15-pin Sub-D-type connector) of the PD-Dante.

8 sets of user memories allow you to store and recall your most frequently used PD-Dante monitor setups including channel focus setting with the option to auto recall a user selectable memory on power up.
Monitoring of 64 Dante™ channels at 48 kHz (32 channels at 96 kHz)
Output of up to 64 Dante™ channels at 48 kHz (32 channels at 96 kHz)
AES67 compatible
Fully compatible with Dante Domain Manager™
L/R output for user-defined mixes or selected channel (PFL mode)
PFL (SOLO) gain: user definable from 0 dB to 30 dB in steps of 1 dB
Monitoring of the channels via two built-in speakers or headphone/earphones
Internal level controlled signal generator for Pink Noise, White Noise, and adjustable Sine waves
Peakmeter displays for each channel (64)
Large high-resolution peakmeter for monitoring the L/R output (-76 to 0 dBFS)
Overlayed level fader for attenuation
Focus mode with comprehensive settings to highlight user selected channels, settings can be saved with channel selections in user memories
Independant Primary and Secondary port status display
Menu operated user interface with touch screen
Access to Dante™ Network menu
Dante™ inputs via two RJ-45 connectors, 1 GHz or 100 MHz operation
Stereo AES/EBU input and output (15-pin Sub-D-F), Stereo Line in (3.5 mm Stereo jack)
Earphones connector and microphone input (3.5 mm jack for mobile headsets)
PoE power supply (13 W) via primary RJ-45 connector
USB Micro A/B connector for power supply and firmware updates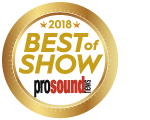 About Nixer Pro Audio

Nixer, based in Dunstable (UK), formed in 2000 by Nick Fletcher and Philip Jones. They have over 30 years experience designing and manufacturing electronic products, specialising in professional audio. Products they have designed have been used extensively on many Broadway shows, West End Shows and also by some high profile touring rock bands.


Nixer Ltd.
45 Evelyn Road | Dunstable | LU5 4NG | UK
Fon +44 1582. 343 111
info@nixer.uk.com | www.nixer.uk.com