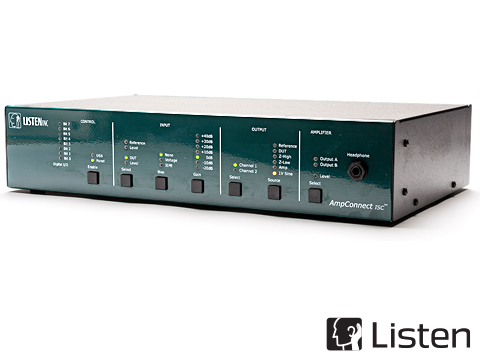 Listen™ - Sound Measurements Make Sound Products

Distributed by RTW, Listen™ offers complete test systems and individual components for audio test and measurement.
The SoundCheck®system includes everything you need to perform top reliable audio measurements.


Software
The heart of the SoundCheck system – powerful software for all types of audio tests.

Audio Interfaces
While you can use any audio interface for your measurements, Listen™ offers two dedicated audio interfaces for use with the system: AudioConnect and AudioConnect 4x4.

Test Interfaces
AmpConnect ISC combines an audio interface, impedance box, amplifier, microphone power supply and digital I/O card in a single unit to simplify setup and minimize errors. This is the most cost-effective approach for most loudspeaker, headphone and microphone tests.

SC Amp Audio Test Amplifier is the world's only dedicated audio test amplifier, with features such as integrated impedance measurement, fixed gain to reduce calibration errors, and DC voltage offset support. It offers low distortion and a low noise floor.

SoundConnect microphone power supply is a single channel microphone power supply with an excellent signal to noise ratio. It powers one SCM/electret microphone and is also available with a 200 V polarization option.

SoundConnect 2 microphone power supply is a TEDS compatible dual channel microphone power supply with low self-noise and a wide frequency response. It powers 2 SCM/electret or IEPE microphones or accelerometers, and is available with a 200V polarization option.

SCM Audio Test Microphones are robust, accurate, stable, and offer excellent directional response in both near and far field. They are available in 2 lengths.

Furthermore, Listen™ offers a number of other electronic interfaces for various types of measurements.


For more information, visit the Listen™ website.

Contact our sales department for a live demo of the SoundCheck system.

About Listen Inc.

Listen is a world leader in audio and electroacoustic test and measurement. Founded in 1995, when its flagship product, SoundCheck® was launched, the company has pioneered electroacoustic measurement techniques for 20 years and sets the standard in the marketplace with powerful and innovative test methods and algorithms, fast and flexible testing, and excellent service and customer support.


Listen Inc.
580 Harrison Ave. Suite 3W | Boston | MA 02118 | US
Fon +1-617-556-4104
sales@listeninc.com | www.listeninc.com